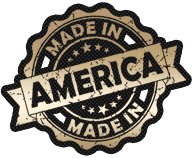 I have spent a lot of time on 2 wheels and often could not find things that would really work and hold up, as well as look good.
So pretty much out of necessity I have come up with a few ideas, and improved on existing products.
So as you go through this site, you'll see drink holders which will mount about anywhere on your bike.
Heat has always been a problem while riding a V-Twin, so we came up with our heat shield, aka "Crotch Cooler", that really work and
can be tooled or customized to match your bike. They are very easy to install.
With all our products looks and function are very important, so we make everything very sturdy, by hand, and right here in the USA, the way things used to be made.
If you are looking for some "BLING", just email Isabel, or call, and she'll see what she can come up with to customize your bike with
leather, studs, colored studs, Rhinestones, leather lacing and tooling…you name it.
Warranty: If you ever have a problem with any of our leather products, just send it back and we will repair or replace. And if you don't
like what you ordered, send it right back and we'll refund your money.
A happy customer is our best advertisement.
– Larry (aka Captain Itch) and Isabel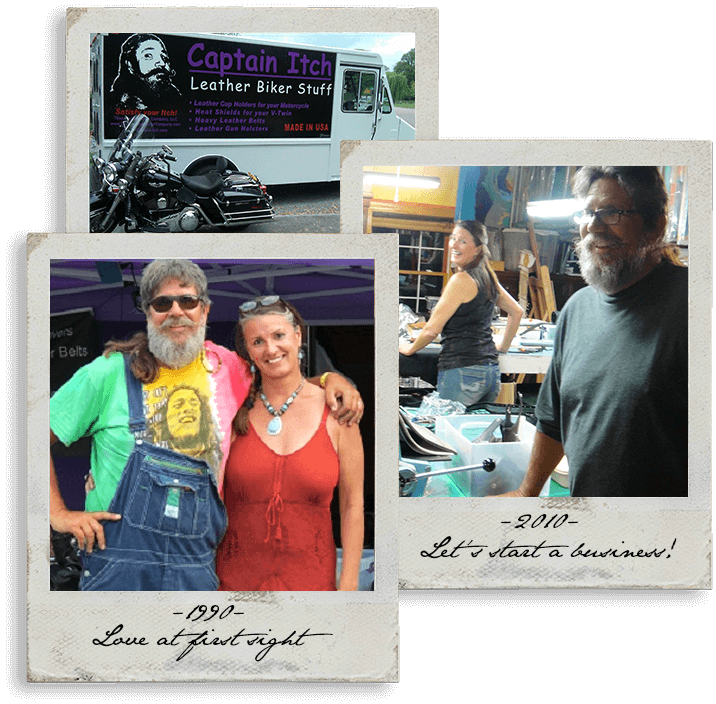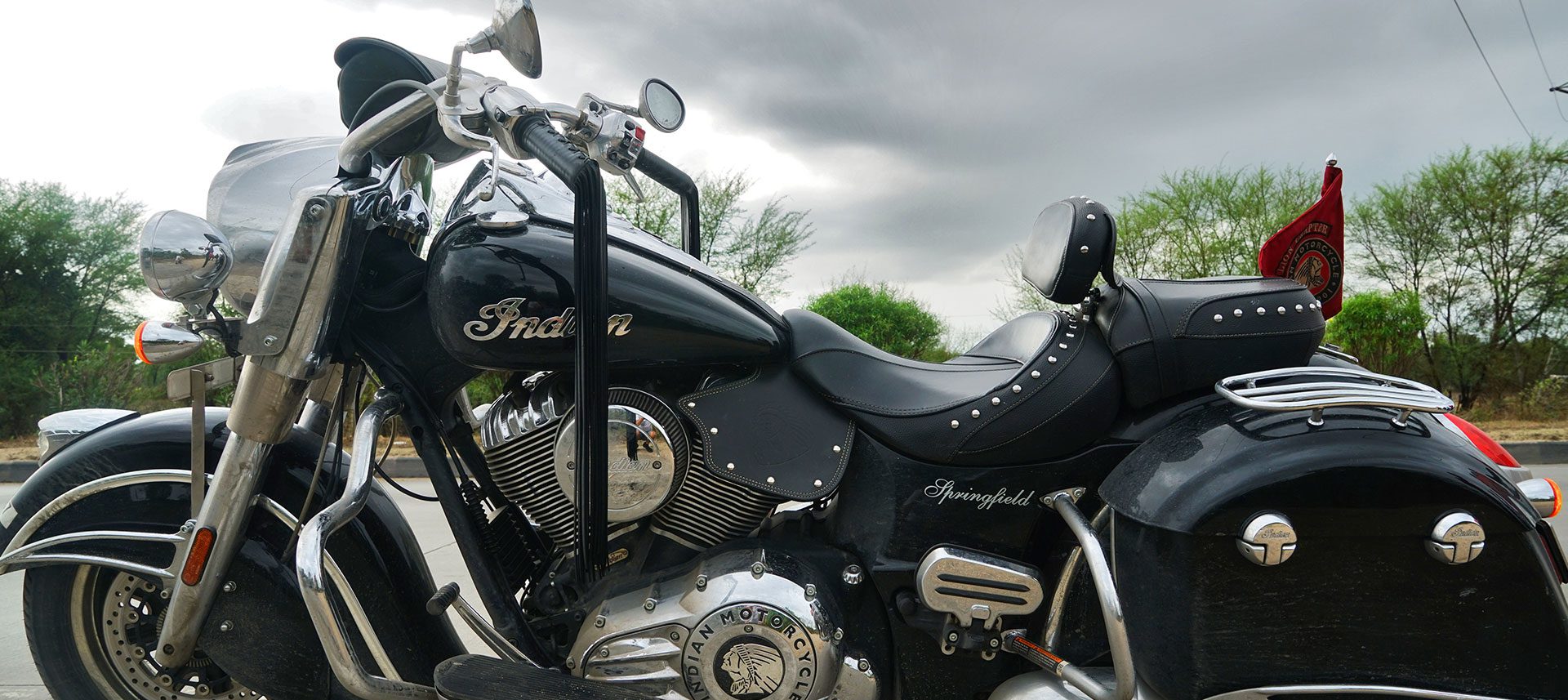 Captain Itch provides custom handmade leather motorcycle accessories. They build and create all of their handmade products in their leather shop in Middle Tennessee. Captain Itch specialized in Harley-Davidson and Indian heat shields and other leather accessories. Some of their leather motorcycle accessories they create are made for Harley-Davidson motorcycles, Indian motorcycles, motorcycle leather heat shields. crash bar covers, face wraps, lever fringes, windshield bags, fork bags, leather cup holder, gun holsters, belts, and more… If you are not satisfied with our products, just send the item back and we'll refund the full amount of your payment.
What Our Customers Say About Us
Jay McElroy
Top Notch Products and Great Service.. Highly Recommend.
Jay McElroy
איציק אוחנה
another satisfied customer
Who bought Captain-Itch's products
And I put on Harley Davidson
Great product
The motorcycle from Israel
איציק אוחנה
Ken McMahon
Excellent product and service. Ordered heat shield for Indian Chieftain and it works and looks great.
Ken McMahon
Tom Lyster
Fits my Harley perfectly, looks awesome and works very well in the California heat. Can't recommend enough!
Tom Lyster
Jorge Pereira
I received the engine guard and saddle bag guard covers very quickly. The quality is top notch.
They look great on my Indian Springfield. I'd recommend Captain Itch products to anyone looking for quality leather products.
Jorge Pereira
Tim Wilcher
Just put the heat shields on my bike have yet to ride with them on but they look good! Thanks Captain Itch!
Tim Wilcher
Dan Curtis
Great products, great customer service. Very happy with crotch cooler and lever fringes. Can't find better anywhere.
Dan Curtis
Phyllis Briles
love my heat shield for my 16 Road Glide
Phyllis Briles
Mike Ashbaugh
Heat shields are awsome, holsters are fantastic
Mike Ashbaugh
Charlotte Covell Chick
Awesome products and the service could not be any better !!!
Charlotte Covell Chick
Bill Hale
Their heat shields are top notch.
Bill Hale
Nancy Marlin
Drove to the source and purchased a heat shield for my 2014 CVO Deluxe. It's perfect! Larry and Isabel are super nice and make an awesome product.
Nancy Marlin
April Mitchell
This was a great experience! I ordered a crotch cooler for my bike on a Wednesday night, it was here Saturday morning! Not only did it arrive fast, but it is top notch quality! Looks good on my bike. Thank you for a great product and fast service!
April Mitchell
Shelley Alfaro
I want sure what I wanted, but I asked for purple crystal on black leather. It turned out better than I imagined. Reasonably priced too
Shelley Alfaro
Deanna Scoleri Vicario
These protectors are great. I was without mine for a short time when I was changing bikes and realized how much it means to have it. Works great. Can't live without it
Deanna Scoleri Vicario
Sheryl Adkins White
This is the hands down the best shopping experience. I ordered engine guard wraps (leather color is a great match) on Sunday and for them on Tuesday. The quality is first rate! 5 STARS all around.
Sheryl Adkins White
Annette Sherman
Had my heat shield since 2010. Best thing ever!!!
Annette Sherman
Shelley Alfaro
This is the second shield I've purchased from the Captain, Isabel.
I love how you knew exactly what I needed for my new bike. The cup holder is also gorgeous and I use it with each ride!
I can't be happier..well, wait a minute. Yes, I can be when I can cruise over to the awesome Indian Motorcycles of San Diego to buy my next leather product from the Captain…
Shelley Alfaro
Jeff Walls
Put this shield on and the first ride made a noticeable difference!
Jeff Walls
Steven Frisch
Awesome customer service. Ordered Monday night, they called me Tuesday to tell me the white stitching will match my bike better and received goods today.
Couldn't be happier with my heat shield !!!
A+++++
Steven Frisch
Mark Grindle
Quick response to questions, very attentive to detail and crotch cooler arrived way quicker than expected and works awesome. Looking forward to making more purchases from Larry and Is.
Mark Grindle
Desa Merila
Shield was delivered within 72 hours of my order, I was not expecting that… ironically I don't even have my bike.. when cap itch ships faster than Polaris sends parts to dealerships, you know it's a win!
Desa Merila
Bobby L Mick
Fast delivery time on my heat shield for my Indian Roadmaster . Installed it very quickly and it does a great job . Good quality work as well . THANK YOU
Bobby L Mick
Dave Kenney
Fender bib is beautiful… service and delivery was MUCH FASTER than I expected!!!! Love it!!
Dave Kenney
Sandy Montclair Gilkey
Received my crotch cooler in just a few days after I ordered it. I'm installing tonight on my Harley Softail Slim. The quality is excellent – top notch – for the price. Thanks!
Sandy Montclair Gilkey
Jane Cross
The "crotch cooler/heat shield" I got for my 2018 Indian Chieftain Limited is not only completely functional, but it is gorgeous, too! AND, I installed it myself on my bike. I had my bike blessed yesterday along with 1500 other bikers and the compliments I received on the heat shield was tremendous! Highly recommend!
Jane Cross
Debbie Red McQueen
Yay! Heat shield for my Softtail Slim! Will be so nice not to burn my thighs and should help keep my oil cap from popping off
Debbie Red McQueen
Lisa Samuels
I have a heat shield for my 2007 Heritage and it saved this bike for me. I don't think I would be able to ride in the summer without it. Fits perfectly, matches even better. Also purchased the magnetic heated gear control holder for friends and they both love them. They say it makes getting off and on the bike with the gear so much easier.
All 3 products are great quality and value. Online purchases were super simple and shipping was speedy.
Lisa Samuels
Wendy Carver
Once Again Isabel was awesome… can't be happier with my new heat shield!! 2nd one and love them on both Of my bikes!!!
Wendy Carver
Donna Anderson
I rode my '95 FLHTCUI over 100,000 miles and more than once blistered my inner thigh on the hot motor. I'm only 5'2″ and my legs weren't long enough to get away from the heat at a stop or while backing up. I recently inherited my late husband's 2007 FLHTCUI and it runs even hotter! I searched the internet and found plastic heat "shields." They looked flimsy. Then I found this site and ordered one. IT WORKS. Period. No more scorching heat on my inner thigh and I was just able to back it into my spot in the garage without waiting a half hour for it to cool down. Highly recommended!
Donna Anderson
Chuck Johnson
Just received my crotch cooler and couldn't be happier with the quality, fit and how it looks. When I originally ordered on line, I had an issue with payment. I received an email from them with a phone# to call about my love issue. Was instantly solved and my cooler was on its way. Got it in 3days… WHAT GREAT SERVICE!!!
Chuck Johnson
David Price
This is probably one of the best things you can buy for the Indian bikes. Immediately saw the difference and have no heat coming off the engine onto the legs now. It looks like it came stock with the bike!!! Will be recommending to everyone I see and complains about the heat.
David Price
Aleekat Hop
90 degrees and stop and go traffic. Back of my right thigh never got hot. Before it was getting unbearable. Quick & easy Install.
Aleekat Hop
Kim Mather Farrell
I order this late on Tuesday night and we got it Friday morning.. What great service. I can't wait to put it on my bike and try it out.. AMAZING..
Kim Mather Farrell
Stubban Debbie
Just installed my heat shield what a difference it makes when riding and parking your bike
Stubban Debbie
Terry Williams
I love mine and helped with the heat issue with my 2017 Indian RoadMaster
Terry Williams
Angela Cardella
I had the plastic heat shields on my Harley and they were crap. I saw women posting about this crotch cooler on FB and I ordered one. It has been marvelous keeping the engine heat off me down under. I highly recommend this product A++++
Angela Cardella
William Dean Jr.
I got the package yesterday with my heat shield in it and put it right on… It came at a really good time because we had a parade to be in today and then my friends and I went riding the rest of the the day… It was almost 90 deg. out but it was bearable because of the heat shield… All I can say is AMAZING !!! I didn't feel like I was being broiled and boiled… Didn't stop all the heat but at least 90 to 95 % of it… Just warm air and not hot… Wished I would have gotten this before now… Thanks guys for a great product… I will extol the benefits of it to all who will listen… Will send pics soon… Bill Dean
William Dean Jr.
Debo Son Solomon
Just what I ordered & great quality. You have a happy customer.
Thanks!
Debo Son Solomon
Jitesh Surana
Awesome Quality! Fits my Indian Perfectly. Works well!
Jitesh Surana
Brent Simpson
Seriously the best on the planet. Such great quality I cant say enough.
Brent Simpson
Jorge Pereira
I received the engine guard and saddle bag guard covers very quickly. The quality is top notch.
They look great on my Indian Springfield. I'd recommend Captain Itch products to anyone looking for quality leather products.
Jorge Pereira
Rudy Smith
Bought a heat shield for my Indian scout – nicely made and works!
Rudy Smith
Ron Ferguson
Bought a Shoulder holster in September 2016, I like it!
Ron Ferguson